Spectrum Compact PIM Hunting Kit
SAF Tehnika's lightweight and easy-to-deploy PIM hunting kit helps quickly identify site-specific signal degradation due to external PIM. The kit includes a handheld spectrum analyzer that simplifies site inspection and PIM hunting. The flexibility for both audible and visual signal levels increase detection efficiency. Save site inspection findings for further analysis to the Spectrum Manager PC Software.
THIS KIT IS LIGHT, ULTRA-PORTABLE, AND EFFICIENT:
Uniquely compact toolkit with a ''fits in your hand'' spectrum analyzer
High quality PIM Test Probe and RF Filter set
Dedicated firmware with Zero-Span and Audio indication
Quick and Easy setup to begin PIM hunting
As mobile wireless networks become more complex and rooftops and towers become more crowded the possibility of external PIM dramatically increases. PIM doesn't just reduce performance – it can also effect the cell site's coverage footprint. The Spectrum Compact PIM hunting kit with the audible and visual indications simplifies identification of external sources.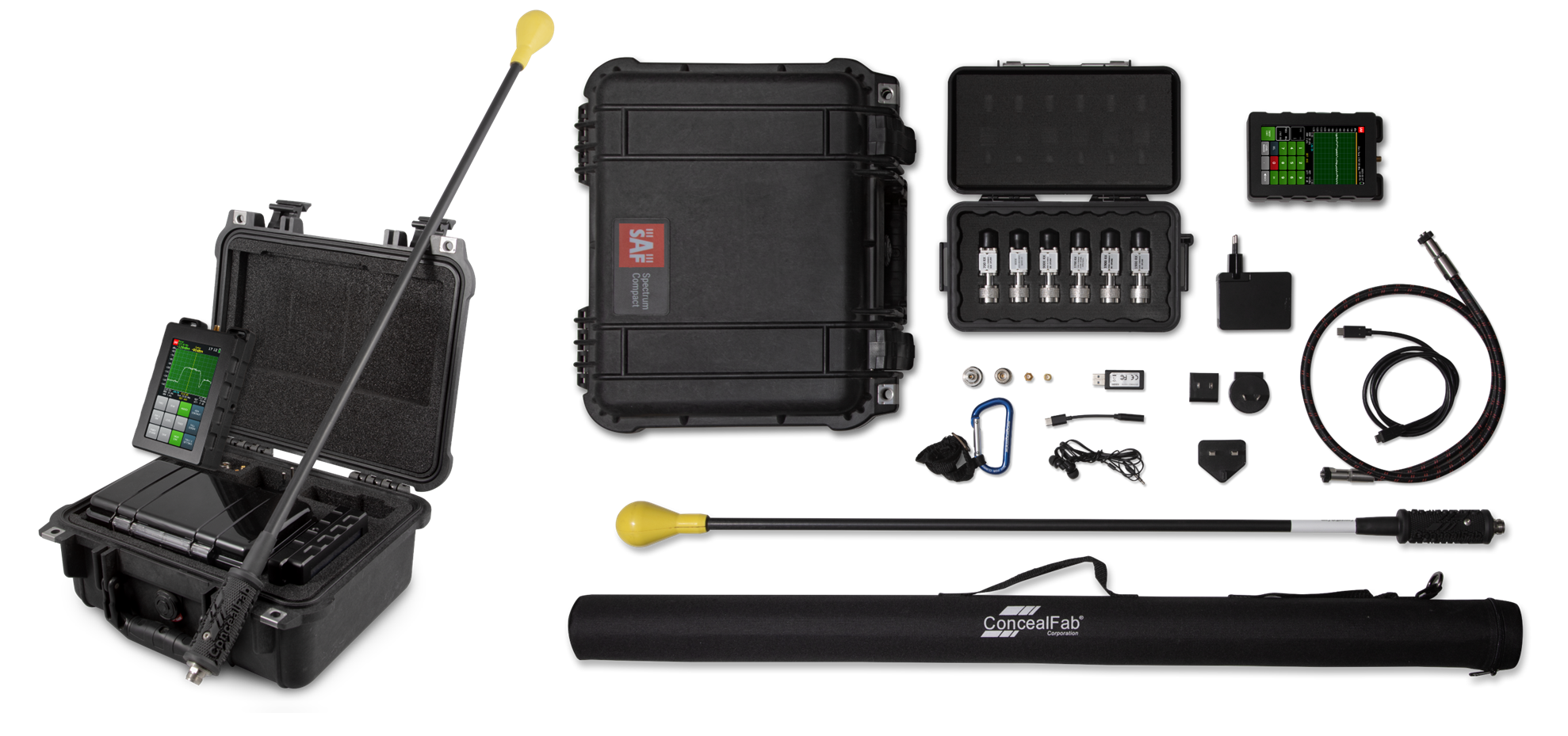 THIS KIT CONTAINS:
Spectrum Compact handheld spectrum analyzer
Industry leading PIM test probe
Complete set of RF filters and cable
N-type to SMA adapter, headphones w/USB-C to 3.5mm adapter
Quick Start Guide
Preconditions:
Conduct investigation to exclude other forms of interference (internal PIM, active intermodulation, ect.)
Inform on-site test technician details for Rx frequency where the IM3 issue is occuring
Cell site causing the PIM issue needs to be transmitting continuously (artifical loading can be initiated if needed) or a dedicated PIM tester will be required
Step 1 – Setup – Assemble the PIM hunting kit:
Connect PIM filter matching Rx frequency of interest to the PIM probe
Connect N-type to SMA adapter to the PIM filter
Connect Spectrum Compact to the PIM probe
Connect Headphones using the USB-C to 3.5mm adapter
Step 2 – Configure measurement parameters on the Spectrum Compact
Configure the audio function (optional) for audible indication once signal levels exceed threshold
Set Resolution Bandwidth (RBW) and Video Bandwidth (VBW)
Switch ON the Low Noise Amplifier (LNA)
Set the Zero-Span to the IM3
Adjust the audio indication threshold level
Step 3 – PIM Hunting
Test technician begins touching PIM probe along suspected structural elements. Monitoring the audible and visual indications from the Spectrum Compact PIM hunting kit pinpoints the external PIM source. Once identified, begin mitigation procedures to repair, replace, or remove the interfering elements.
DOWNLOAD WHITEPAPER
(click the image below)