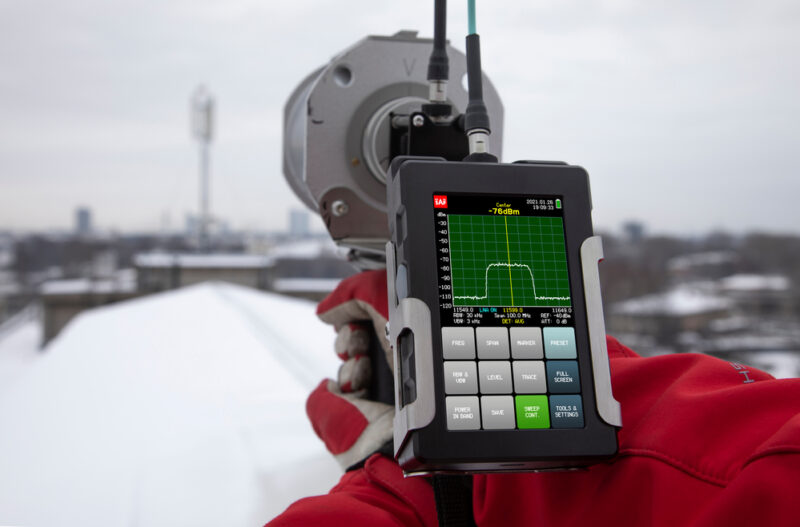 Spectrum Compact is the ultimate solution for radio transceiver site audits, radio verification, and license condition inspections. No need to climb towers with bulky and expensive laboratory-grade equipment – this handheld spectrum analyzer offers mobility and ease of use for RF testing. Seven affordable Spectrum Compact devices cover the 10 MHz – 87 GHz frequency range:

Spectrum Compact has a unique feature set: excellent receiver sensitivity, lightweight hand-held form factor, easy-to-use graphic user interface, touch screen LCD, and a wide selection of application-specific accessories. Free PC software makes saved spectrum scanning data management and analysis simple.
Perform typical RF field tests right now in the Spectrum Compact's virtual demo. Select "Regulatory Body" and explore guided tests tailored to your needs:
INSTANT ACCESS TO FREE VIRTUAL DEMO
Survey Sites
The spectrum analyzers allow ground-level testing in the 10 MHz – 43 GHz frequency range. Pointing an antenna towards the tower and performing RF tests from the ground saves hours of tower climbing and brings extra safety to your team. That includes, but is not limited to:
Verifying license parameters of any installed radio (transmission on/off, channel bandwidth, center frequency, polarization)
Scanning all installed radios in each band or across several radio bands
Verifying installed radios to separate radio users who follow their license conditions from illegal spectrum users
Detect Interference
Spectrum Compact ensures interference detection within seconds by simply pointing the device toward the far side of a radio link. And you can do this without interrupting link traffic! Weak link performance can be caused by mismatched antenna polarizations – a small but disruptive mistake that you can detect and fix within a few minutes with SAF Spectrum Compact.
Post-measurement Processing and Reporting
Download Spectrum Manager PC software for free. Review the field measurement data at a convenient time from the PC in the office. With the Save or Record function on Spectrum Compact, users can create data files and later open them with the PC software.
Spectrum Manager's post-measurement key features for processing include placing additional markers, adding GPS coordinates, zooming in on a specific range of the spectrum, calculation of power in the band, and spectrum mask function. Use the post-measurement review of spectrum scans as a tool for sharing data among colleagues by having a visual reference of how radio link problems look in the field.
Another application for Spectrum Manager is reporting. Users can create documents containing spectrum scans, information about the sites where measurements were taken, GPS location, or create images of the scanned spectrum. This enables users to build their database about the situation in the field and track changes in the frequency range of their interest.