Boost Your 2022 RF Projects – New 16-26.5 GHz Spectrum Compact!

12 Jan, 2022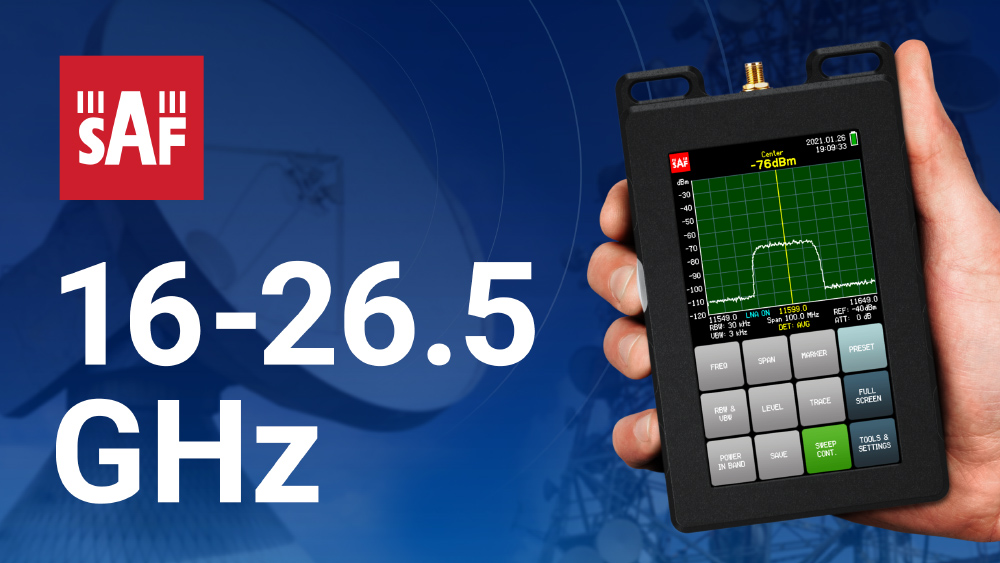 The new 16-26.5 GHz Spectrum Compact is a great way to maximize the return of your investments in the new year while also making the field engineers' lives easier. Don't forget to take care of your team when you are planning budget for 2022 – get a quote now! 
SAF Tehnika has expanded its Spectrum Compact family of ultra-portable handheld microwave spectrum analyzers, now providing overlaps of the frequency ranges for each of the Spectrum Compact V2 models. The new model that supports 16-26.5 GHz provides best-in-class price/performance with improved features, high durability, and an affordable price. The new Spectrum Compact finishes the line of Spectrum Compact V2 replacing Spectrum Compact V1 17-24 GHz tool.
What is new?
The 16-26.5 GHz spectrum analyzer has a ten times better frequency resolution sharpened up to 0.1 MHz, twice as fast sweep time at minimal span, a switchable RBW, and more important improvements. All this high-performance is designed in a rugged, ultra-compact form factor that measures only 135 x 83 x 34 (mm)/ 5.31 x 3.27 x 1.34 (inches) and weighs 0.57 kg/20.11 oz. For a detailed outlook on the device's parameters, refer to the datasheet.
The new application programming interface has been expanded with continuous measurement commands, allowing to seamlessly integrate Spectrum Compact into the systems which need to perform measurements over long periods of time. Moreover, our engineers have added the built-in attenuator and the option to record time plots to the new version of the Spectrum Compact.
Advantages for Field Testing
Every aspect of the Spectrum Compact family addresses the challenges of field applications even better. Like all Spectrum Compact models, the 16-26.5 GHz handheld spectrum analyzer has a resistive touchscreen for operation with gloves, as well as high contrast and full display modes for easy readability in bright light environments. Durable thumbscrews for the waveguide adapter connections help the Spectrum Compact withstand harsh environments. It can save spectrum traces in the integrated 8 GB of memory for offline analysis, investigation, and reporting using the Spectrum Manager PC software.
How to Use the Spectrum Analyzer?
Spectrum Compact devices are ideal for mobile operators, carriers, and tower installation crews deploying 5G networks, Wireless Internet Service Providers (WISPs), local government institutions, public safety departments, and critical network infrastructure owners. Field engineers and technicians can use the ultra-portable handheld microwave spectrum analyzers to:
You can explore more applications in our free virtual demo.