E-band Spectrum Compact wins EDI CON China Innovation Award

04 Apr, 2019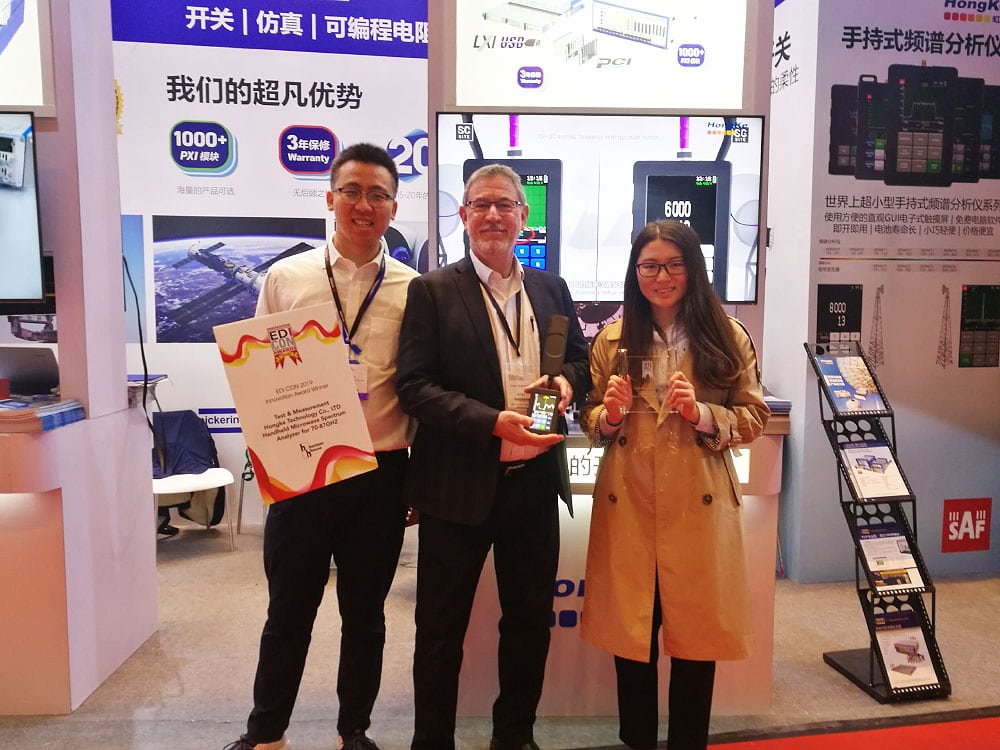 DI CON China 2019 has announced the winners and presented the trophies to company representatives in its second annual EDI CON CHINA Product Innovation Awards. SAF Tehnika's E-band Spectrum Compact has won the Innovation award in the Test & Measurement category.
The EDI CON Product Innovation Awards honor products introduced in the last year that have had the greatest impact on the industry, providing the tools necessary to bring on the next generation of electronic design innovations.
E-band Spectrum Compact is the world's first battery-operated handheld spectrum analyzer for the 70 – 87 GHz range. It is a ready-to-go solution for E-band link troubleshooting, maintenance and installation. Device has a -90 dBm leading displayed average noise level (DANL) at 10MHz RBW, which makes it a perfect tool for interference detection on installed paths.
More info about Spectrum Compact product family can be found here.
Spectrum Compact for Test & Measurement category was submitted by our China's partner Hongke Technology Co., LTD.
About EDI CON
Celebrating its seventh year in 2019, EDI CON China uniquely brings together RF, microwave, EMC/EMI, and high-speed digital design engineers and system integrators for networking, training, and learning opportunities. Attendees come to EDI CON to find solutions, products, and design ideas that they can put into immediate practice for today's communication, consumer electronics, aerospace, and medical industries. The exhibition hall features product displays, demonstrations, and applications talks while the conference hosts educational technical sessions, panels, and workshops that address all aspects of design, simulation, test, and verification.
About the Organizers
EDI CON China is organized by Microwave Journal, Signal Integrity Journal, and Microwave Journal China, the event planning division of its parent company Horizon House, and ACT International (Hong Kong), a publisher of BtB media in Asia serving multiple technology markets including Microwave Journal China. Horizon House is an experienced and well-established organizer of targeted events, including major conferences/exhibitions such as EDI CON USA as well as the European Microwave Week (EuMW) on behalf of the European Microwave Association (EuMA), orchestrating these events' long-term development and growth. The program is developed in collaboration with leading international technology companies in the areas of RF/microwave and high speed digital ICs, components, test and measurement, software, cables/connectors, systems, and services.