RF Testing Step by Step: Spectrum Compact Emulator Update

19 Aug, 2021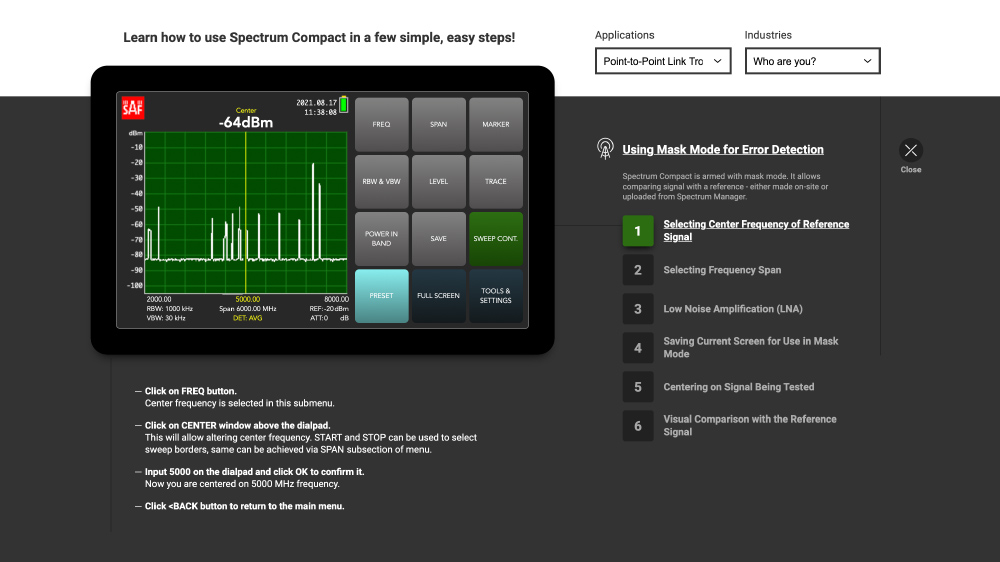 We have listened to the feedback you have provided. Pushing the buttons of emulator is alright, but what are the RF applications you can use Spectrum Compact for?
Updated version tackles just that! We have prepared a collection of tests, grouped by application and industry for your best experience. New virtual Spectrum Compact is accompanied by the set of step-by-step instructions guiding you through each test A to Z. Instructions highlight abilities our spectrum analyzer possesses and give an insight into the conclusions you can reach from the measured spectrum.
If you don't want to follow our tutorial – explore Spectrum Compact on your own terms. Emulator is still a correct representation of actual analyzer's GUI – with the full virtual representation of the real tool's functionality.
You can use emulator on any device: desktop, tablet or mobile. Special care of our design team went towards the mobile version as this is the closest experience of owning Spectrum Compact without actually buying one.
This selection will be updated in time with the new tests that are possible to imitate virtually. Hence, make sure to send us your feedback on what tests you think are missing. We will try our best to integrate those in our emulator and add our contribution towards RF testing education.